The Marketing Department is responsible for internal and external communications and brand management for CareSTL Health. It is our pleasure to serve as the liaison between the organization and the community.
Marketing is also responsible for producing a quarterly newsletter, social media messaging, annual report and special events, including the Project O Annual Walk/Run, CareSTL Health's Annual Health/Back to School Fair and our Annual Gala.
WATCH: CareSTL Health/Ritenour School District Husky Health Center feature on Channel 5
Raising Awareness about an Epidemic During the Pandemic
ST. LOUIS – Opioid addiction has impacted many families nationwide, including St. Louis City. A local woman who lost multiple family members to overdose is raising awareness of the opioid crisis with a walk/run event in Forest Park on Saturday morning.
"We really want people in the community to understand what opiates are and to actually understand symptoms so they can help their family," said Angela Claybon, Care STL Health CEO.
Care STL Health hosts the Project O -Opioid Awareness Walk. Clabon is one of many who have been devastated by this epidemic, which is why she created this free event, now in its second year.
CareSTL Health Vaccination Campaign with Deneen Busby
Stephen B Receives COVID-19 Vaccine
Radio personality Stephen B with 96.3 the Lou receives his COVID-19 vaccine at CareSTL Health in St. Louis.
CareSTL Health Welcomes CDC Director Dr. Rochelle Walensky to the Health Center on MLK Drive
Free COVID-19 Testing and Flu Shots Available in Predominately Black Areas of St. Louis
Faith & For the Sake of All is partnering with CareSTL Health to provide free COVID-19 testing to the hardest hit areas of the St. Louis region.

Flu shots are available at select locations while supplies last and are recommended for ages 3-65.
Read more at KMOV.com.
COVID-19 Masks to Help the Hearing Impaired
Nurse practitioner Nicole Crisp wears a see-though mask donated to CareSTL Health pediatricians and nurse practitioners by the Missouri Commission on the Deaf and Hard of hearing. The masks are for providers who have hearing-impaired patients so they can still see facial expressions and read lips while providers wear masks as part of safety protocols during the COVID-19 pandemic.
CareSTL Health COVID-19 Community Response
CareSTL Health has suspended all community organization activities and meetings at all of our health center locations until further notice.
Download and read our official community response to learn more.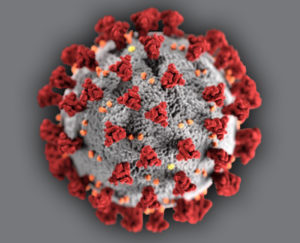 Drugs Claim More Black Lives Than Guns Do, Statistics Show
ST. LOUIS – At an annual New Year's Eve vigil, police Chief John Hayden revealed that while there were an alarming 194 homicides last year, 108 more people than that died of drug overdoses in the city of St. Louis. 
And as if 302 overdose deaths aren't already mind-blowing, the St. Louis Metropolitan Police Department said it was important to note that the final number for last year hasn't come in yet. 
The final tally won't be available until, maybe, March or April, because of the length of time it takes to confirm the deaths by toxicology tests.
To track the numbers, the SLMPD works with the Medical Examiner's Office, City and State Health Departments and the Fire Department. (more …)
BACK TO SCHOOL SUMMER HEALTH FAIR
The annual back-to-school health fair was held at the CareSTL Health Whittier location. Hundreds of residents and patients came out and enjoyed the festivities which included free book bags, school supplies, haircuts and physical exams.  Additionally,  attendees enjoy the CareSTL Health clothes closet and free refreshments. Most of our patients and residents look forward to this event every year.
BABY SHARK TRUNK OR TREAT
Hundreds of families brought their children to this safe and fun Baby Shark Trunk or Treat.  The kids enjoyed fun, games, candy and refreshments.  Plus, free selfies with the Baby Shark character.  The police department polar express attended and handed out free ice cream!  Ice cream is always a hit!
PROJECT O (OPIOID) AWARENESS WALK
The first annual Opioid Awareness walk was held in Forest Park on the Upper Muny parking lot. This annual walk is supported by local and national leaders including St. Louis Metropolitan Police Department Chief John Hayden, Congressman William "Lacy" Clay and Senator Roy Blunt. More than 200 participants walked one or 3 miles and heard testimony from Radio One 95.5 DJ Kut who lost a loved one to opioid (heroin) abuse.
We are responsive to the needs of our patients and strive to exceed their expectations every time.